12 Best Dip Powder Nail Kits to Get a Salon-Quality Manicure at Home
 At-home manicures can save you a lot of money, but regular nail polish chips within days of application. That's why brands have started to sell at-home gel kits that promise long-lasting salon-quality manicures for a fraction of the price. Gel polish kits have taken over the market, but now there is a new-ish (maybe even better) at-home manicure method: dip powder nail kits.
What is a dip powder manicure? It's a long-lasting manicure that doesn't use UV light to harden. The color comes from dipping your nails into a pigmented powder, rather than painting on streaks of liquid. The result is a flawless, even coat, usually only achieved by professionals — until now.
Are powder dipped nails better than gel?
The biggest difference between gel and dip powder is longevity. Dip powder manicures can last up to a month, which is twice as long as gel nail polish. Also, dip powder manicures don't require light curing lamps. That means you won't have a bulky nail lamp taking up space in your closets or drawers, and you won't have to deal with UV exposure.
How do you apply dip powder nail polish at home?
Prep the nail

 

by pushing the cuticles back and filing the nail into your desired shape.
Use a cleanser

 

to remove oil and dirt from the nail bed.
Apply a base coat

 

to the nail once nails are clean and dry.
Dip into powder color

 

and use a duster brush to remove the excess powder.
Repeat the entire process: double dunking ensures full coverage and a stronger finish for a chip-resistant manicure.
Finally, paint nails with the activator,

 

which bonds the color powder into a lacquered gloss, and apply a top coat for extra strength.
Are dip powder nails safe?
If you are worried about your nail health, don't fret: dip powder won't ruin your nails, but scraping and picking the manicure off will. Chipping away at your nails with a nail stick removes layers of your natural bed, weakening your nails.
Instead, to remove dip powder nail polish, stick to the same removal process as gel: dip a cotton pad in acetone and allow it to sit on your nails for 10 to 15 minutes before wiping the color away. If your manicure doesn't budge after 15 minutes, let your nails soak in polish remover a bit longer. Don't forget to add a moisturizer to your nails when you are all done!
To get you started, we've rounded up the best dip powder nail kits for an at-home salon-quality manicure that can last several weeks:
1
BEST HOLOGRAPHIC DIP POWDER NAIL KIT
Holographic Nail Powder
If you already own everything you need to execute the perfect dip powder mani but you're looking to try something different, go for this holographic nail powder. The mesmerizing shimmer is sure add a little excitement to your nails.
2
BEST NAIL LENGTHENING DIP POWDER KIT
Dip Professional Dipping System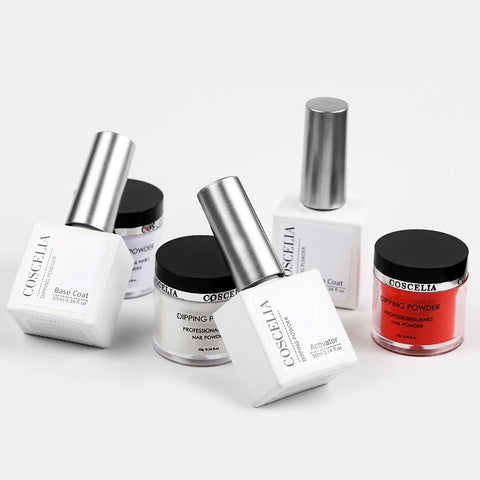 Can't grow long, beautiful nails? You're not alone. This set includes both white and natural tips you can adhere to your nail for natural-looking length.
3
BEST DIP POWDER NAIL KIT FOR BEGINNERS
Nail Dip Powder Starter Kit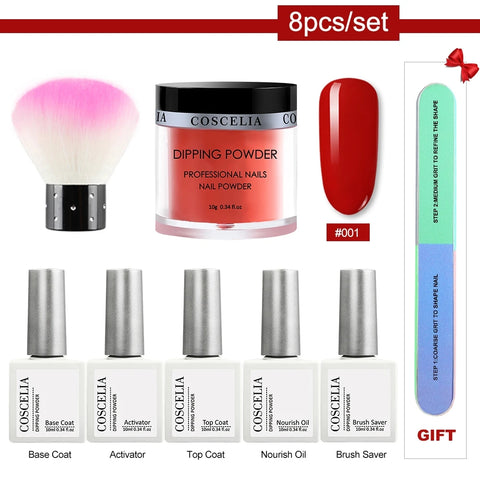 This is kit is for the nail novice. If you don't own the basics, this dip set doesn't just come with the powders and liquids: it also equips you with a wooden stick, nail file, buffer, dust brush and cuticle oil so that you can prep your nails before applying the base coat and powder.
4
BEST DIP POWDER NAIL KIT FOR FRENCH TIPS
Starter Kit Acrylic French Manicure Kit
Included in this nail dipping system are a nail bond, base, activator, top coat, and brush saver, plus five acrylic dip powders to achieve the perfect French manicure. The brand also carries fun party colors for a bolder look.
5
BEST DIP POWDER NAIL KIT FOR GLAM NAILS
Glitter Dip Powder System
It's pricier than other kits, but reviewers say you only need to use little product and really thin coats to get the best results. Included among six fun colors is a glittery silver to create glamorous nail art.
6
FASTEST DIP POWDER NAIL KIT
Quick Dip Powder System Kit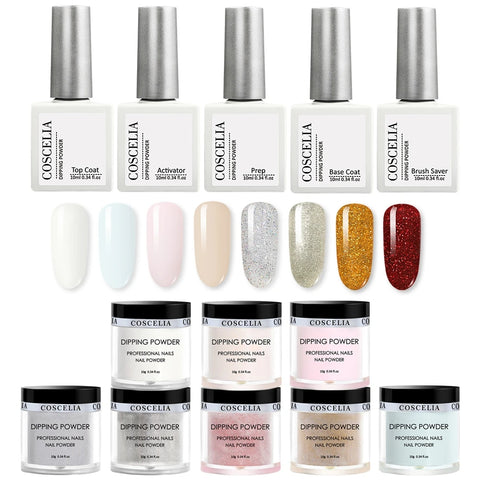 This brand promises salon-quality nails in 25 minutes or less, and it uses oils to seal and protect your nails from drying or cracking. You can use the product with natural nails or tips. 
7
BEST NAIL STRENGTHENING DIP POWDER KIT
Dipping Powder Nail Set for Nail Art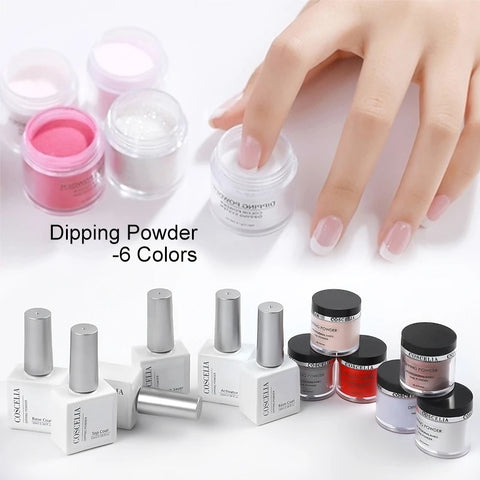 The brand claims this kit contains vitamin E and calcium and no chemicals for stronger nails. Reviewers say they appreciate the instructions, which help them achieve results that are "just like the salon!" 
8
BEST GEL DIP POWDER NAIL KIT
Dip-Powder Gel-Liquid-Set
This comes with a base, activator, top coat, and brush saver. It takes the ease of dip powder that delivers gel nail results. The brand claims that their dip powder gel is chip resistant and causes no damage to the nail beds, plus keeps the color on for about three weeks. 
9
BEST NON-TOXIC DIP POWDER NAIL KIT
Dip Powder Starter Kit
Revel Nail kits contain EZ liquids plus one jar of powder in the color of your choice. Their dip powder claims to deliver lightweight, natural results that can last up to three weeks longer. The brand boasts that their dip powder is non-toxic and odor-free.
10
BEST COLOR-CHANGING DIP POWDER NAIL KIT
SerenDIPity Mood Changing Dip Powder Starter Kit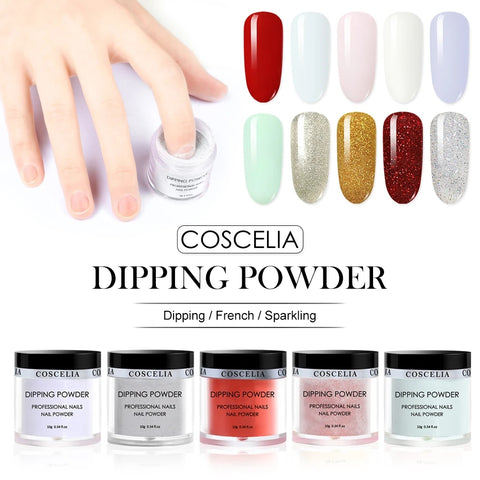 Enjoy a bit of mood ring nostalgia as you apply the color changing powder from this kit. The colors change with the temperature so it's like getting two manicures in one!
11
BEST DIP POWDER NAIL KIT FOR TRENDY COLORS
Dip Powder Starter Kit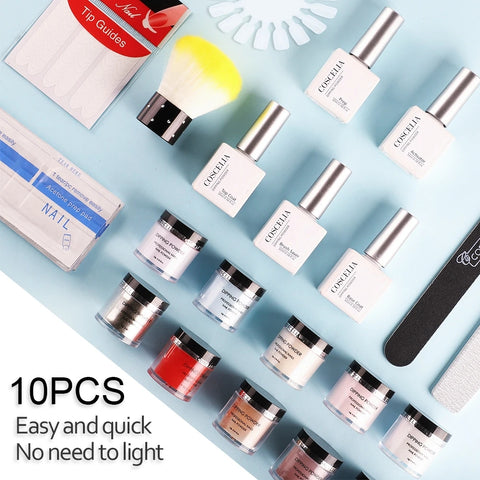 While most starter kits come with classic reds and subtle pinks, this powder set offers three shades of plum and a subdued blue for an autumnal manicure. It also comes with a brush cleanser so you don't have to worry about leftover powder from previous manicures speckling your uniformed dip.
12
BEST DIP POWDER NAIL REMOVAL KIT
Acrylic Nail Polish Remover Clips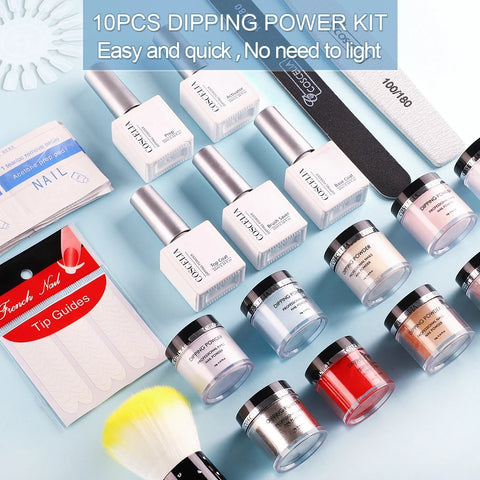 A salon-quality manicure requires salon quality removal. Instead of vigorously rubbing an acetone soaked cotton pad across your thick manicure, use clips that hold acetone soaked pads to the nail until the polish has broken down enough for easy removal.
1 comment
Im needing instruction kit for beginners acrylic kit, like yesterday my kit did not come with one
Yvette Schmidt
September 27, 2020
Leave a comment